S360 SAM™ Studio Monitor
S360A är en monitorhögtalare med hög SPL som inte kompromissar med tillförlitlighet, taltydlighet eller ljudkvalitet.
Smart Active Monitor-system (SAM™)
Tekniken Directivity Control Waveguide (DCW™)

Frekvensomfång
36 Hz - 22 kHz (-6 dB)
Kraftfullt och tydligt ljud
S360A:s kombination av huvudhögtalarprestanda och kompakt storlek gör den perfekt för krävande film-, musik- och postproduktion. I kombination med en subwoofer uppfyller S360A kraven för uppspelning av EDM och mixning av filmmusik i Dolby-format även i rum där lyssningsavståndet överskrider 10 meter. Fristående, infälld i vägg eller monterad på väggen – S360A ger neutral ljudåtergivning med en "short-term" SPL-kapacitet på 118 dB, med toppar som är ännu högre.
Kalibrera utrustningen för din miljö
S360A integreras med programvaran GLM, via vilken den kan konfigureras och kalibreras för din lyssningsmiljö. Detta kompenserar för negativ påverkan från rummet och ger en optimerad monitorlösning – från mono till immersivt. Detta hjälper dig att producera mixar som överförs perfekt, och GLM fungerar även som ett omfattande styrsystem för både Mac och PC där du kan kalibrera din lyssningsnivå till godkänd volymstandard, växla mellan format, monitorsystem och primära lyssningspositioner – och mycket mer.
Genelec
S360 SAM™ Studio Monitor Black
S360 SAM™ Studio Monitor White
1 x monitorhögtalare S360A
1 x strömkabel, 1,8 m (6 fot)
1 x 5 m GLM-nätverkskabel
1 x användarmanual
S360 SAM™ Studio Monitor
Awards
TEC (Technical Excellence & Creativity) Award 2020 - Studio Monitor Category
Now in its 35th year, the annual TEC Awards are widely recognized as the highest honour dedicated to the pro audio and sound recording industry. It's where the most outstanding products in the worlds of music making, live performances, video games, television and films are recognised, and we were thrilled that our S360 and Aural ID were both voted winners for Outstanding Technical Achievement in their respective product categories.
This year was the first time that three companies all picked up double TEC awards, so congratulations also to our friends at Universal Audio and API for their success, and also to Joni Mitchell for being the deserved recipient of the Les Paul Innovation Award – presented by Herbie Hancock.
After a 'Call for Entries', the TEC Award nominations were made by a panel of professionals and thought leaders from all areas of the audio and sound production industries, and then voted upon by pro audio, live event and music industry professionals across the globe. The winners were then announced at a special awards dinner last Saturday - during the NAMM Show in California - and our team were on hand to step up and accept the awards.
The S360 high-SPL Smart Active Monitor triumphed in the Studio Monitors category, and has quickly become a benchmark for those working in music, film and post that demand a true reference that fuses main monitor performance with compact size – from stereo through to immersive formats.
By contrast, our Aural ID technology helps delivers a more truthful headphone listening experience by modelling the user's personal head and upper torso features to produce a personalised file that then can be integrated into their audio workstation. This enables those in the worlds of music recording, post production, academic research, VR and games development to experience a far more natural sense of space and direction in their headphones, thus promoting more accurate and reliable headphone mixing.
Will Eggleston, our US marketing director commented "We thank all the voters who selected the S360 and Aural ID to win their respective categories. It is indeed an honour and a privilege to be recognised by our peers for the hard work of our R&D and engineering teams. They are incredibly outstanding products representing the spirit of innovation and market-driven development that Genelec strives to embody."
Thank you to everyone that voted for us - we're hugely proud, and grateful for your support!
S360 scoops Resolution award
We'd like to express our sincere gratitude to everyone that voted for our S360 high-SPL two way monitor, which has just been announced as the winner in the Monitoring category of Resolution Magazine's prestigious 2019 awards.
Launched last summer at the AES Immersive Conference in Tokyo, the S360 is fast becoming an essential choice for both stereo music recording and immersive post-production, where the S360's fusion of main monitor performance and compact size makes it perfect for those requiring precision listening at higher SPLs or longer listening distances.
Housed in a low diffraction enclosure with premium quality Finnish woodwork, the S360 features an enhanced 10-inch high efficiency woofer and 1-inch titanium diaphragm compression tweeter housed in an extended directivity control waveguide – delivering neutral reproduction with a short-term SPL capability of 118 dB, with peaks even higher.
As part of the growing Smart Active family of Genelec monitors and subwoofers, the S360 tightly integrates with GLM software, via which it can be configured, calibrated and controlled. Using GLM, any Genelec Smart Active model can be incorporated into a system configurable from simple stereo to high-channel count immersive formats.
Having been shortlisted by Resolution's panel of industry experts and practitioners, voting was then opened to the magazine's readers, social media followers, and the general public – who thankfully gave the S360 a resoundingly positive thumbs-up.
Once again thank you to everyone who supported us – we are extremely proud and grateful!
---
Tekniska Specifikationer

Förstärkareffekt
250 W Bass (Class D) + 100 W Treble (Class D)

Frekvensomfång
36 Hz - 22 kHz ("-6 dB")

Noggrannhet Frekvensomfång
± 2 dB (39 Hz - 19 kHz)


Anslutningar
1 x XLR Analog Input
1 x XLR AES/EBU Input
1 x XLR AES/EBU Output
2 x RJ45 Control
S360 SAM™ Studio Monitor
Tekniska Specifikationer
Specifikationer för system
Frekvensomfång
39 Hz - 19 kHz (± 2 dB)
Low cutoff -6 dB
36 Hz
High cutoff -6 dB
22 kHz
SPL
Peak SPL
≥128 dB

Maximum peak acoustic output per pair in a listening room with music material at 1 m.
Short term max SPL
≥118 dB

Maximum short term sine wave acoustic output on axis in half space, averaged from 100 Hz to 3 kHz at 1 m.
Long term max SPL
≥112 dB

Maximum long term RMS acoustic output in the same conditions with IEC weighted noise (limited by driver protection circuit) at 1 m.
Egenljud
Egenljud
≤10 dB

Self generated noise level in free space at 1 m on axis (A-weighted).
Vikt
Vikt
30 kg
(66.1 lb)
Mått
Höjd
530 mm
Höjd med Iso-Pod
530 mm
Bredd
360 mm
Djup
360 mm
Kabinett
Material för kabinett
MDF
Typ av kabinett
Reflex port
Högtalarelement
Bass
Typ av element
Cone
Diameter
250 mm
Treble
Typ av element
Compression
Compression driver 44 mm (1.7 in) into a 25 mm (1 in) throat.
Diameter
25 mm
Direktivitet
Vertikal Direktivitet
Horisontal direktivitet
Harmonisk distorsion
50…100 Hz ≤1 %
100 Hz...5 kHz ≤0.5 %
> 5 kHz ≤1.5 %
Group delay
Latens vid höga frekvenser från ingång till akustisk utgång, mätt vid den analoga ingången:
Utökad faslinjäritet när GLM är OFF
5.2 ms
I Genelecs prestandagrafik beskrivs tiden för konvertering från en elektronisk insignal till den akustiska utsignalen i en Genelec-monitor av två faktorer - latens och gruppfördröjning. Gruppfördröjningsfaktorn kan avläsas i grafiken för en specifik frekvens. Den totala frekvensspecifika in-till-utgång-fördröjningen är en summa av latens- och gruppfördröjningsfaktorerna. För att förstå betydelsen av denna totala fördröjning, tänk på att flytta bort en högtalare med 1 meter skapar en ytterligare fördröjning på cirka 3 ms.

Avsnitt Förstärkare
Förstärkare
S360 bass amplifier
250 W Class D
S360 treble amplifier
100 W Class D
Nätspänning
100-240 VAC 50/60Hz
Avsnitt Signalbehandling
Anslutningar
Input

Analog signal input connector XLR female, balanced 10 kOhm.
Input

Digital signal input connector XLR female 110 Ohm.
Output

Digital signal output / Thru connector XLR male 110 Ohm.
2 x Control

Two CAT5 (RJ45) GLM Network connectors for computer control using the Genelec Loudspeaker Manager (GLM) software.
För mer ingående teknisk information vänligen se produktens bruksanvisning
Nyckelteknologier
Smart Active Monitor-system (SAM™)
Tekniken Directivity Control Waveguide (DCW™)
Aktiva delningsfilter
Intelligent Signal Sensing (ISS™)
Tekniken Laminar Integrated Port (LIP™)
Skyddskretsar
Optimerade förstärkare
Rumskorrigering
Mångsidiga monteringsalternativ
Uppkopplade Smart Active Monitor-system (SAM™) har funktioner för automatisk kalibrering till omgivningen.
Under det senaste decenniet har mängden globalt mediainnehåll ökat enormt, vilket har lett till stora förändringar i hur uppkopplade företag hanterar den ökade arbetsbördan. En ökad mängd ljudproduktioner görs nu i mindre och mer begränsade arbetsutrymmen. Detta ökar de akustiska problemen och minskar lyssningstillförlitligheten. Samtidigt måste professionella ljudtekniker kunna räkna med ett tillförlitligt och tydligt monitorhögtalarsystem som återger ljudet neutralt och utan distorsion.
Genelecs avancerade SAM-system är baserade på de stabila elektroakustiska grunderna i serierna 1200, 8000 och 7000 och utgör dagens mest avancerade och anpassningsbara monitorlösningar. De är oumbärliga för professionella ljudtekniker tack vare att de automatiskt kan anpassa sig till den akustiska miljön och kompensera för nivåer, fördröjningar och avvikelser i rummet. SAM-system kan styras via Genelecs patenterade, uppkopplade programvara Genelec Loudspeaker Manager (GLM™) som hjälper dig att bygga upp ett flexibelt och tillförlitligt monitorsystem.
Programvaran GLM 3 är ett otroligt intuitivt och kraftfullt styrsystem som hanterar anslutningen till alla SAM-studiomonitorer och -subwoofers i nätverket – upp till 30 stycken. GLM 3 har funktioner för justering av nivåer och avståndsfördröjning samt flexibel rumskorrigeringsutjämning med det robusta och toppmoderna AutoCal™-systemet för automatisk kalibrering. Alla parametrar och inställningar sparas i systemets inställningsfiler eller i varje enskild monitorhögtalare eller subwoofer om GLM-nätverket måste kopplas från.
Dessutom kan SAM-systemets samtliga akustiska egenskaper optimeras för olika tillämpningar eller kundbehov. Även om högtalarna eller projekten måste flyttas mellan olika rum kan du lita på att SAM-tekniken ger bästa möjliga konsekvens vid lyssning, med en neutral ljudbild med låg distorsion.
Genelecs SAM-system erbjuder ett heltäckande, lösningsfokuserat och uppkopplat produktsortiment med stöd för analoga och digitala signaler i mer eller mindre alla arbetsmiljöer.
Tekniken Directivity Control Waveguide (DCW™) för platt återgivning både on-axis och off-axis.
1983 tog Genelec ett revolutionerande steg med utvecklingen av tekniken Directivity Control Waveguide (DCW™), som på den tiden användes i ett äggformat kabinett. Genelecs DCW-teknik har utvecklats och finjusterats i över 30 år och syftet är att förbättra prestandan för direktstrålande flervägsmonitorer betydligt.
DCW-tekniken formar den utgående vågfronten på ett kontrollerat sätt, vilket möjliggör förutsägbar anpassning av ljudets spridningsmönster. Målet är att begränsa spridningsvinkeln så att ströspridning minskas för att göra spridningen jämn och enhetlig. Det leder till en utomordentligt platt frekvensgång och en enhetlig kraftrespons. Den avancerade DCW-tekniken minimerar tidiga reflektioner och ger ett brett och stabilt lyssningsområde med korrekt ljudåtergivning både on-axis och off-axis.
Minimerade tidiga reflektioner och kontrollerad, konstant direktivitet har ytterligare en viktig fördel: frekvensbalansen i rummets efterklangsfält blir mer eller mindre likadan som det direkta ljudfältet från monitorhögtalarna. Detta leder till att monitorsystemets prestanda blir mindre beroende av rummets akustiska egenskaper.
Ljudbildens djup och bredd är viktiga aspekter i alla lyssningsmiljöer, och de är inte bara viktiga on-axis utan även off-axis. Detta hjälper inte bara ljudteknikern som gör jobbet, utan även andra som befinner sig i lyssningsområdet – och det är ofta många inblandade i större kontrollrum.
Huvudsakliga fördelar med DCW™-tekniken:
– Platt återgivning både on-axis och off-axis för ett större funktionellt lyssningsområde
– Ökat förhållande mellan direkt och reflekterat ljud för minskad färgning
– Förbättrad stereo- och "soundstage"-ljudbild
– Ökad känslighet för drivenheterna på upp till 6 dB
– Ökad högsta ljudtryckskapacitet
– Minskad distorsion för drivenheterna
– Minskade kantdiffraktioner
– Övergripande minskad distorsion
Aktiva delningsfilter vid låga signalnivåer.
Elektroniska delningsfilter gör det möjligt att dela upp ljudsignalen i separata frekvensband som kan dirigeras till enskilda slutsteg, vilka sedan kopplas till specifika givare som är optimerade för ett specifikt frekvensband.
Aktiva delningsfilter finns både i digitala och analoga varianter. Genelecs digitala aktiva delningsfilter har extra funktioner för signalbearbetning, såsom skydd av element, fördröjning och utjämning.
Genelecs analoga aktiva delningsfilter innehåller elektroniska komponenter som används vid låga signalnivåer som är lämpliga för ineffekten till slutstegen. Detta till skillnad från passiva delningsfilter som används vid höga signalnivåer från slutstegets uteffekt, vilket gör att de måste hantera höga strömstyrkor och i vissa fall även hög spänning.
I ett vanligt tvåvägssystem behöver de aktiva delningsfiltren två slutsteg – ett för baselementet och ett för diskantelementet.
Designen med aktiva delningsfilter har flera fördelar:
– Frekvensgången blir oberoende av eventuella dynamiska förändringar i elementets elektriska egenskaper eller nivå.
– Ökad flexibilitet och precision för att finjustera den utgående frekvensgången för de specifika elementen.
– Varje element har ett eget slutsteg och egen signalbearbetning. Detta isolerar varje element från de signaler som hanteras av övriga element, vilket minskar problemen med intermoduleringsdistorsion och förvrängning.
– Möjlighet att kompensera för känslighetsvariationer mellan elementen.
– Möjlighet att kompensera för avvikelser i frekvens- och fasåtergivning som är kopplade till elementets egenskaper inom det avsedda passbandet.
– Den platta frekvensgång som en högkvalitativ aktiv högtalare ger är resultatet av den kombinerande effekten av delningsfilterresponsen, slutstegsresponsen och elementresponsen i ett högtalarkabinett.
Genom att använda en aktiv teknik kan man justera frekvensgången och optimera hela högtalarsystemet i olika miljöer utan att behöva använda dyra externa equalizers. Slutresultatet är ett enklare, mer tillförlitligt, effektivt, konsekvent och precist aktivt högtalarsystem.
Intelligent Signal Sensing (ISS™) minskar strömförbrukningen i standby-läge.
Intelligent Signal Sensing lanserades 2013 och uppfyller både EU:s ErP-direktiv och Genelecs egna hållbarhetsåtaganden.
ISS™-kretsen övervakar högtalarens signalingång och fastställer om den används eller inte. Om ISS-kretsen inte känner av någon ljudsignal under en viss tid försätter den automatiskt högtalaren i strömsparläge så att den drar mindre än 0,5 W. När en ingångssignal upptäcks aktiveras högtalaren direkt. Högtalaren kommer att börja spara ström direkt när arbetet pausas.
En "ISS Disable"-brytare finns på baksidan av alla högtalare, bredvid rumskorrigeringsreglagen. När högtalarens huvudströmbrytare står på "ON" aktiveras ISS™-funktionen (strömsparläge) automatiskt.
Om du inte vill använda ISS™-funktionen kan du stänga av den genom att sätta "ISS Disable"-brytaren på den bakre panelen på "ON". I det här läget stängs högtalaren av och slås på endast med hjälp av huvudströmbrytaren.
Observera att man alltid kan stänga av högtalaren helt med huvudströmbrytaren.
Tekniken Laminar Integrated Port (LIP™) ger precis basåtergivning.
Genelecs val att använda ventilerade kabinett (basreflexkabinett) går tillbaka till 1978 och vår allra första aktiva monitorhögtalare, S30. Forskning för att utveckla bättre och mer effektiva reflexportar har pågått sedan dess.
En typisk reflexport består av ett rör och en öppning. För att undvika turbulens i röret ska luftflödet inte möta några spetsiga vinklar då detta leder till missljud, kompression, distorsion och förlust av den totala akustiska energin. För att minska luftflödets hastighet måste både röret och dess tvärsnitt vara stort. Kabinettets yttre dimensioner är ofta något som utgör en begränsning, eftersom ett långt rör inte får plats.
M-serien har två ventilationsrör med öppning som sträcker sig över hälften av kabinettdjupet för att ta itu med dessa specifika problem. Den nya tekniken Laminar Integral Port, LIP™, väntar på patent och har flödesoptimerats med hjälp av datorbaserad finit elementmodellering för att uppnå låg distorsion och hög effektivitet även vid mycket höga ljudnivåer.
Reflexportarna integreras i NCE-kabinettet under gjutningsprocessen, vilket gör att man undviker behovet av separata extrakomponenter. Tvärsnittsytan (se figuren) visar portens effektiva flödesegenskaper. Den naturliga riktningen för installation av högtalare i M-serien är vertikal, och för att möjliggöra enkel placering mot väggen är portarna på M-serien riktade nedåt och sitter undertill på högtalarna.
Det nya basreflexsystemet Laminar Integrated Port, LIP™ ger tydlig lågfrekvensgång och verklighetstrogen ljudåtergivning.
Sofistikerade skyddskretsar för drivenheter för säker användning.
När du arbetar med avancerad ljudproduktion är det otroligt viktigt att dina monitorsystem alltid är tillförlitliga och fungerar som de ska. Det främsta skälet till Genelecs framgångar inom sändningstillämpningar är våra produkters tillförlitlighet, och en viktig faktor bakom detta är de interna skyddskretsarna som finns i alla våra produkter – ända sedan 1978.
Skyddskretsarna förebygger fel på elementet genom att analysera signalnivåerna. Vid plötsliga toppar eller för höga nivåer under en längre tid minskas signalnivån automatiskt. Den här funktionen påverkar givetvis inte ljudkvaliteten på något sätt när högtalaren används inom ramen för dess specifikationer. Den hindrar endast avvikande ingångssignaler från att orsaka skada på högtalaren.
Skyddskretsarnas funktioner och fördelar:
– Minskar uteffektnivån vid behov (t.ex. när temperaturen vid elementets talspole uppnår ett gränsvärde), vilket förbättrar systemets tillförlitlighet betydligt
– Lämpliga skyddskretsar i alla högtalare och subwoofers gör det möjligt att maximera systemets utgående ljudnivå.
Varje givare drivs av en egen optimerad förstärkare.
Elektroniska delningsfilter gör det möjligt att dela upp ljudsignalen i separata frekvensband som kan dirigeras till enskilda slutsteg, vilka sedan kopplas till specifika givare som är optimerade för ett specifikt frekvensband.
I ett vanligt tvåvägssystem behöver det aktiva delningsfiltret två slutsteg – ett för baselementet och ett för diskantelementet. Slutstegen är direkt kopplade till den aktiva högtalarens element, vilket gör att slutstegens belastning blir mycket enklare och välkänd. Varje elementspecifikt slutsteg har endast en begränsad frekvens att förstärka (slutsteget är placerat efter det aktiva delningsfiltret), vilket bidrar till att göra designen enkel.
Den aktiva designprincipen har flera fördelar:
– Slutstegen är direkt kopplade till högtalarens element, vilket maximerar kontrollen som utövas av slutstegens dämpning på elementets talspole. Detta reducerar i sin tur följderna av dynamiska förändringar i elementets elektriska egenskaper. Detta kan förbättra systemets transienta svar.
– Minskning av den uteffekt som krävs från slutsteget. Tack vare att ingen energi går förlorad i komponenterna till det passiva delningsfiltret minskas den uteffekt som krävs från slutsteget betydligt (med upp till 50 % i vissa fall), utan någon minskning av den akustiska uteffekten i högtalarsystemet. Detta kan bidra till att sänka kostnader och öka både ljudkvaliteten och systemets tillförlitlighet.
– Ingen förlust mellan förstärkaren och elementenheterna, vilket leder till maximal akustisk effektivitet.
– Den aktiva tekniken kan uppnå överlägsen ljudprestanda vs. storlek vs. lägre frekvensgräns.
– Alla högtalare levereras som ett fabrikskonfigurerat system (förstärkare, delningsfilterkomponenter, kabinett och elementsystem).
Precis rumskorrigering för optimering av högtalarprestandan i ditt rum.
Interaktionen mellan rummets akustik och högtalarens ljudspridning är komplex. Alla rum påverkar monitorhögtalarens återgivning på något sätt, till exempel reflekterande rum jämfört med ljudisolerade rum och placering av högtalarutrustning vid väggen eller på avstånd från väggen.
Alla högtalare från Genelec har rumskorrigeringsalternativ som kan användas för att kompensera för rummets påverkan på akustiken och uppnå en platt frekvensgång vid lyssningspositionen.
Analoga system
Genelecs analoga högtalare har mångsidiga rumskorrigeringsalternativ. Här ingår (beroende på modell):
– Lågfrekvensfilter och -lutning
– Diskantfilter och -lutning
– Basnivå
– Mellanregisternivå
– Diskantnivå
– Desktop Control
För lågfrekvenser finns två huvudsakliga styrningsalternativ. Baslutningskontrollen fungerar som ett shelving-filter tillsammans med lågfrekvensfiltret som gör det möjligt för dig att optimera systemets låga och riktigt låga frekvensgång i olika installationer. Styrningsalternativ för bas, mellanregister och diskant finns för de större systemen. Dessa styrningsalternativ gör det möjligt att optimera den relativa balansen mellan de olika passbanden.
Användarmanualen och databladet för varje högtalare innehåller en lista över de rekommenderade rumskorrigeringsinställningarna för olika installationer. De har tagits fram utifrån lång praktisk erfarenhet och mätningar av olika typer av vanliga akustiska miljöer.
Smart Active Monitor-system (SAM™)
Genelecs SAM-system erbjuder ett omfattande och lösningsinriktat produktsortiment med smarta anslutningsmöjligheter där alla produkter har programvaran Genelec Loudspeaker Manager (GLM™) och dess system för automatisk kalibrering, AutoCal™.
AutoCal från Genelec ger dig möjlighet att för första gången genomföra en integrerad process för fullständigt automatiserad mätning, analys och justering av alla monitorhögtalare i GLM-nätverket. Systemet mäter återgivningen i lyssningsområdet och tillämpar lämplig kompensering för lågfrekvenserna och låg- till mellanfrekvenserna för att minimera negativ akustisk påverkan från rummet samt skillnaderna mellan olika lyssningspositioner. AutoCal justerar även relativa nivåer, löptid och korrekt delningsfas (AutoPhase) för alla subwoofers i systemet.
Programmet Acoustic Response Editor visar den uppmätta återgivningen, filterkompenseringen och den resulterande systemåtergivningen för varje monitorhögtalare i diagram med full manuell kontroll över de akustiska inställningarna.
Mångsidiga monteringsalternativ för alla installationsbehov.
Förutom utomordentlig akustisk design och avancerade alternativ för optimering av högtalarens prestanda utifrån rummet erbjuder vi många olika monteringsalternativ för enkel installation för olika användningsområden.
Vårt stora utbud av tillbehör och de fasta monteringspunkterna på baksidan av våra produkter med aluminiumkabinett erbjuder lösningar för alla vanliga installationer. M6-fästpunkter för vägg- och takfästen är integrerade i de formgjutna kabinetten.
Vissa modeller har även en 3/8"-gänga på undersidan av kabinettet för montering på ett robust mikrofonstativ. Andra större och tyngre modeller har M10-fästpunkter. Vi har även designat särskilda golvstativplattor som är kompatibla med Iso-Pod-stativet som är en del av vår produktdesign.
Tack vare dessa alternativ och möjligheter används våra högtalare på många olika platser utöver professionella inspelningsstudior, exempelvis i kommersiella projekt och AV-installationer såväl som i hem över hela världen.
Premium Genelec loudspeaker solution enhances Jolie's sophisticated club experience
Mumbai's luxury private members-only club, Jolie's, is a hidden gem that truly encapsulates the meaning of its namesake. Sprawling over an impressive 20,000 square feet, the club takes its members on a journey through the senses with its numerous zones, each carefully designed to foster its own distinct atmosphere. From the open, bright, and inspiring design of the breakfast lounge and work area to the exquisite, sultry lighting of the cigar lounge as well as the art and music spaces, the team at Jolie's have considered all the minute details, with the best of artisan cuisine, cocktails, and culture. To elevate the customer experience further still, the club also features a premium Genelec loudspeaker solution, which was integrated by Genelec's local AV distribution partner Pandam Professional Audio.
With Jolie's vision to deliver the best to its members in all aspects, Abhishek Bindal, the Senior Vice President of Jolie's, approached Pandam's owner Prashant Damle for further consultation. In response, Abhishek and his team were invited to Pandam's Genelec Experience Centre located in Mahim, Mumbai. They were so impressed by the sound demonstration that they immediately decided to go with Genelec, proving why the brand is synonymous with both prestige and quality. Furthermore, the ease of installation and operation of Genelec loudspeakers further sweetened the deal. In situ, the pleasing aesthetic of the loudspeakers' iconic rounded design blends seamlessly with the establishment's sophisticated decor.
The sound demonstration was so impressive that they immediately opted for Genelec.
Under the guidance of Prashant, the project was intensively planned over a two-month period. However, the actual integration was carried out in an extremely tight 20-day period, leaving no room for error. In total, over 40 loudspeakers were deployed, with the assistance of Pandam Audio's installation engineer, Sunil Jambhale. This includes a relatively even split of Genelec S360A and 8010A models, complemented by four 7382A subwoofers to handle low frequency duties. Any questions or further support that Club Jolie required would be directed towards Nikhil Pagedar, Pandam's customer support engineer.
Prashant explains the key decisions: "In the event space area we installed the S360As paired with a 7382A subwoofer. This combination delivers a class-leading balance of extraordinary SPL output, wide dynamic range and an intensely detailed, transparent performance." It was important to equip this room with the capacity to satisfy a wide range of different functions, which is precisely what this Genelec pairing achieves.
The club's bar area also benefits from the performance of the S360As. Although it preserves an intimate feel, it is an expansive space with high ceilings, which properly utilises the headroom that the S360As provide. "To ensure that they blend seamlessly with the environment, and that there are no unwanted vibrations propagating from the loudspeakers, we positioned them on the wall. From there, we precisely tilted the mounting bracket for the best possible listening angle," explains Prashant.
It was a colossal task which had to be delivered in just 20 days.
In the restaurant, however, Pandam opted to use the 8010As, which deliver Genelec's hallmark sound quality in an ultra-compact format. Additionally, other smaller rooms like the private dining area, business lounge, hidden bar and the cigar lounge were also equipped with 8010As, primarily serving as a background music system (BGM). Naturally, the playback volume for all areas can be individually tuned at the management's discretion, and this in tandem with each loudspeaker's integrated room compensation switches ensures perfect optimisation for each room environment.
"It was a colossal task, but we endeavoured to provide Jolie's with the best possible solution. The team were very happy with the system we delivered," says Prashant, "It helped immensely that the team at Jolie's were so co-operative. Without such clear communication, it would have been hard to achieve the goal in the limited time frame we had."
Manish Rathi, the Senior Vice President at Jolie's reaffirms the success of this collaboration: "Working with the team at Pandam Professional Audio was an absolute pleasure - from start to finish. The team's professionalism and sensitivity with regards to this project were both impeccable. We are delighted with the result!"
Genelec monitors deployed throughout Rome's 'secret' new post facility
"Marco Guadagno and Laura Ciafaloni wanted to keep this operation secret from the first steps to the last, and incredibly they did it," explains Donato Masci from Studio Sound Service, the acoustic design firm responsible for the design and construction of the facility.
As a company, 3Cycle had a history of using various studio facilities around Rome for dubbing work. But strong growth, combined with client support led to the decision to create a dedicated space of their own. While it was important that the dubbing element was catered to, the team wanted to expand the business further and took the opportunity to create a post-production hub that could offer much more. As a result, 3Cycle features seven ADR dubbing rooms, a pair of 5.1 QC rooms, two 7.1.4 Dolby Atmos Home Entertainment rooms and a Dolby Atmos theatrical room.
Genelec monitors were the right choice for 3Cycle because they are a standard for post-production facilities around the world.
The design work was carried out by Studio Sound Service's team of designers made up of Donato Masci, Cecilia Torracchi and Giulia Bondielli, with the acoustic consultancy of Andy Munro. "We have designed a lot of studios together and created a sort of standard for post-production and dubbing, which is recognised and appreciated by numerous broadcasters," says Donato Masci from Studio Sound Service. "3Cycle wanted to reach an international level and therefore we decided to also involve Andy."
"3Cycle's studios have been designed and built following the latest R&D in acoustics," he continues. "In particular, the acoustics of the recording rooms have been given a neutral balance with the reduction of colouration and artifacts that can affect the final mixing of voices in all forms of media. The control rooms and mixing environments have been given a different approach, to match established international standards and Dolby certification requirements."
Alongside the cutting-edge acoustics, Genelec Smart Active Monitors feature prominently throughout the facility. Each of the seven ADR rooms feature L-R 8330 monitors with an 8340 for the centre channel. The QC rooms are both equipped with 8340 monitors and a 7380 subwoofer for the 5.1 setup. Finally, the two Dolby Atmos Home Entertainment rooms have been installed with flush-mounted L-C-R S360 monitors, 8340s for the surrounds and overheads, and a 7382 subwoofer delivering the low frequencies.
"Genelec monitors were the right choice for 3Cycle because they are a standard for post-production facilities around the world," states Masci, explaining the reasons behind selecting the studio monitors. "In addition to this, the GLM loudspeaker manager software helps a lot for the fine tuning, even if the rooms already sound really good."
With this project taking place during the pandemic, there were obvious challenges. The Studio Sound Service team had difficulty travelling from their headquarters in Florence to the site in northern Rome (as Tuscany remained isolated from Rome for months) meaning that the supervision of the construction site was carried out from a distance. "It definetely wasn't a walk in the park," notes Masci. "The construction was slowed down by numerous inconveniences related to the pandemic, but nevertheless all the collaborators made all the leaps so as not to accumulate large delays."
Another major challenge came from isolating the facility. However, With Munro's assistance, the team managed to create perfectly floating rooms that were mechanically decoupled from the structure. "All the recording rooms have been isolated using floated, room-within-room construction with vibration isolation throughout," explains Masci. "Control rooms have also been given appropriate isolation, to avoid interference and also to allow accurate monitoring of the recordings themselves."
the GLM loudspeaker manager software helps a lot for the fine tuning, even if the rooms already sound really good.
Reflecting on the overall project, Masci is proud of the end results. "The 3Cycle facility is the largest post-production facility that we've designed. It was a challenge but in the end it gave us great satisfaction. 3Cycle's partners Marco Guadagno and Laura Ciafaloni, and CTO Simone Nobili, believed in us from the beginning and this was very important for us. Of course, during the implementation phases there were difficult moments, especially linked to respecting deadlines which were affected by the pandemic, but the 3Cycle guys have always shown a great and sincere sense of satisfaction."
This reaction has been mirrored by the local industry, particularly following the secrecy around its creation. "Obviously when the facility opened, it was a big surprise for the city, and talent and producers are still talking positively about the first experiences they had," says Masci. "It seems they really appreciate the acoustics, but also the general comfort of the rooms that have a particularly refined design."
Genelec S360 monitors drive Spain's first Dolby Atmos Home certified studios
Part of Mediapro's image and sound post-production company, Telson.Tres60 opened its new facility in May 2019, and decided to upgrade its monitoring capabilities to better serve its clients. "The system upgrades were driven by client demands - for example Movistar asks for everything in Dolby Atmos," explains sound production co-ordinator, Ana Belén Martín. "We must be able to fit the standards of each of these clients. This means that we have to generate much more material than before because of the different types of broadcast formats – from a mobile phone to a Smart TV."
The Telson.Tres60 team, alongside Unitecnic – Mediapro's engineering company which handled the installation – turned to local Genelec partner Audio-Technica Iberia for the 7.1.4 monitoring solution. In both rooms S360A monitors were installed in the LCR positions, with four 1032C monitors as surrounds and the same number of 8340As covering the overhead channels. Low frequency content is handled by a 7382A subwoofer, and with all of the monitors being calibrated and controlled via Genelec's GLM loudspeaker management software, the monitoring system is able to provide the flexibility required to work to different standards.
"These are the only two Dolby Atmos Home rooms in Spain approved to work at a 79 dB SPL monitoring level," adds Pelayo Gutiérrez, sound supervisor and head of the fiction sound department of Telson.Tres60. "Ricardo Viñas from Dolby was responsible for adjusting the rooms and equalising them to the three required levels: at 85 dB for cinema, 79 dB for Netflix and 82 dB for Telefónica."
Alongside the two Dolby Atmos Home rooms, the facility features a 7.1 room, two 5.1 rooms, a foley room and a movie theatre, which also benefit from Genelec monitoring technology. "In terms of technical expectations, Genelec has delivered exactly what we anticipated," reflects Gutiérrez. "We are very happy – it's a perfect setup. We have real confidence when it comes to making premixes here and moving on to the movie theatre or vice versa - the mixes translate perfectly."
Genelec and Sound Blanc join forces for unique surround sound performance
Combining an ambient music performance with a multi-channel listening experience, both the performers and the live audience were surrounded by a ring array of Genelec loudspeakers, creating a truly unique listening environment. This type of playback system is tailor-made for ambient music, emphasising the sense of space and the abstract nature of the compositions – and creating an incredibly thought-provoking and stimulating live event.
The planning and creation of the show took place over a two month period, using the demonstration space in Modern Sky to evaluate how the sound elements combined, how they moved, and what type of speaker configuration would be best suited to the ambient material. The creative team included electronic musician Wang Lu, also known as L + R, music producer/mixer Shen Lijia and visual artist Tami-musiXgal, and working alongside our colleagues at Genelec China, a system comprising eight S360 high-SPL smart active monitors and a 7382 subwoofer was used to surround the audience, while a smaller smart active array of four 8330 two-ways, four 8331 coaxial three-ways and a 7360 subwoofer was used to envelop the musician and the VJ. Genelec GLM software was then used to analyse the room and optimise the frequency response, distance delay and playback level of each speaker in the system – thereby delivering the best possible listening experience to both performers and audience alike.
In planning the event, the team were seeking a good combination of manual control, programming and random machine triggering, with the pre-programmed foundation of the 8.1 audio mix being handled by Ableton Live, with Cycling 74's Max allowing communication with external hardware instruments – and plenty of real-time musical improvisation was included too!
Prior to the event, the demand for tickets was so high that it was decided to stage three separate performances, to allow every listener to position themselves comfortably within the speaker array and experience the finest sound quality. And from our own perspective, the whole process of planning and executing the event gave us a much deeper understanding of the shaping of space, the precise positioning of sound and the design of moving trajectories in music.
There's no doubt to us at Genelec that as the world's exposure to immersive audio becomes greater, the future of multi-channel live music performances is increasingly looking brighter. There are a whole new generation of music fans who are seeking more and more 'experiential' live performances, and Genelec is excited to play its part in the growth of this exciting medium.
G Livelab – The future of live music in Tampere relies on Genelec
In the wake of the unmitigated success that is G Livelab Helsinki, the Finnish Musicians' Union has opened a brand new – and bigger – venue in the vibrant city of Tampere, some 200km north of the Finnish capital. The same team was deployed to realise the Tampere project which is built according to the same 'music first' philosophy as Helsinki. The result is an extraordinary live music experience based on quality programming, modern design, and state-of-the-art Genelec audio systems including the ground-breaking new 4430 Smart IP loudspeaker.
Housed in a striking red brick building which was formerly the boiler house of the Frenckell paper mill in the heart of the city, the venue hosts up to 250 people and offers a hugely varied programme including jazz, folk, world music, pop/rock, chamber music, electronic music and more. Akukon Oy designed the acoustics, electroacoustics, lighting, sound, video, communication systems and basic IT structure as well as the rigging systems, as they did for Helsinki, and leading Nordic AV integrator, Bright – another key member of the Helsinki team – brought Akukon's vision to life.
"Genelec was already a tried and tested solution with the first G Livelab project in Helsinki which has had great reviews," explains Bright's Head of Installation, Santtu Sipilä. "People really liked what we achieved in Helsinki, so it was an obvious decision to equip the Tampere club with Genelecs as well."
The biggest difference between the two venues is the space – Tampere is much bigger with significantly higher ceilings. Although this posed certain challenges in terms of acoustic treatment, it also allowed greater freedom for the audio design.
The second notable difference is the use of Genelec's 4430 Smart IP loudspeakers which weren't available at the time of the Helsinki installation.
"We definitely wanted the new 4430s for easier cabling and added control; it's opened up a world of possibilities for us," admits Sipilä. "We have a fully networked system running on Dante – this includes the big loudspeakers used for the main PA – and any of the 4430s can take any signal from anywhere. This means that we can use the same loudspeakers for virtual acoustics, surround sound, background music, delays… the possibilities are endless, and it's enabled us to considerably reduce the total amount of loudspeakers required in order to achieve what we wanted. We are able to make art with loudspeakers and we are not limited in any way in terms of how we can use the system."
Tapio Ilomäki, the project manager for Akukon, agrees: "Our primary objective was the same as for Helsinki: to deliver a high-quality system with high musicality that serves the performer best. However, the versatility of systems and spaces was a key element of the design; modern venues need to be multi-purpose and they have to be able to facilitate these changes as quickly and easily as possible, for optimum functionality and quick return on investment. The use of the 4430s plays an important role at this level as well as offering extremely musical sound with very low distortion."
The ability to have everything delivered over just a single cable is every installer's dream.
Sipilä is also extremely impressed with the PoE (Power over Ethernet) capabilities of the 4430s. "We were really surprised by the SPLs and sound quality from this size of loudspeaker over PoE. We honestly didn't think it was possible, so yes, we're very impressed. The ability to have everything delivered over just a single cable is every installer's dream, so I think that Genelec's Smart IP range will be figuring in a great many of our future designs!"
In addition to the 4430s, the main PA system comprises a pair of 1236 SAM studio monitors, the flagship of the Genelec range, seventeen S360s for surround and delay, a pair of 1238s as the first delay line, and finally a flown sub array of nine 7380 subwoofers. "We didn't have either the height or the space to include subs in Helsinki, so this is a welcome addition in Tampere which gives us some extra headroom in the system and helps add body and fullness to the sound," continues Sipilä.
When you come here to listen to live music, it will most likely sound even better than it did on the record.
Renowned Finnish singer/songwriter, Markus Nordenstreng of Tuomo & Markus and the Latebirds considers G Livelab as his favourite venue for intimate performances. "Some of the best music I have ever heard has been live, but sound quality is often let down by the venue, either through bad acoustic treatment or a sub-par sound system – or both. What you have here at G Livelab is just the opposite end of the scale – for me it's the ultimate live sound experience. When you come here to listen to live music, it will most likely sound even better than it did on the record – you can hear things you never heard before. It would be a great service to mankind if there was a G Livelab in every city around the world!"
The final word goes to Annamaija Saarela, CEO of G Livelab Tampere: "G Livelab isn't just about the technology or the programming – it's about the whole experience of enjoying live music, and I'm proud to say that in bringing together the best of everything and everyone involved, we have achieved a result that is even greater than the sum of the parts. We've had nothing but positive feedback since we opened, both from the public and musicians alike."
Genelec Smart IP helps deliver multisensory experience at Finnish music hall of fame
The Finnish Music Hall of Fame is Helsinki's most recent and innovative cultural landmark. Located in the newly redeveloped Pasila district of the Finnish capital, already noted for its vibrant street art, the museum is attracting visitors in droves thanks to the unique concepts that have been deployed to depict the history of Finnish music.
Genelec was approached from the outset to be a part of this exciting project, the design and installation of which was awarded to renowned Nordic AV integration specialists, Bright.
"Genelec is the world leading company in professional audio monitoring," says Music Hall of Fame board member, Olli Ilmolahti. "We knew that Genelec has been researching and developing products over many decades and already has much experience in this field.
"We wanted to have the best of the best, so Genelec was the perfect choice."
As the Finnish Music Hall of Fame, we were not ready to make any compromises concerning the listening environment and sound quality. We wanted to have the best of the best, so Genelec was the perfect choice to be a part of the story of Finnish music throughout history."
The new music museum offers a multisensory experience for all music lovers covering genres from three centuries - from symphonies to Finnish rap music to folk and heavy rock plus everything in between - made possible by utilising the newest technologies available. The aim was to provide an interactive museum experience at a whole new level, offering visitors the chance to experience full musical immersion and a dive into the textures of music. Virtual technology enables visitors to embark on spectacular musical journeys whilst modern sound technology permits them to explore the roles that various instruments and voices play in a symphony orchestra, a mixed choir and a military band. Visitors can make their voice heard by performing on Finland's finest stages, from the Helsinki Music Centre to Olavinlinna Castle on a virtual karaoke tour, and much more besides.
Genelec's new Smart IP platform was an absolutely key element in making all of this a reality. Genelec worked with Bright and various content creators to establish the optimum audio design for each space and each exhibit. Bright deployed 124 of Genelec's new 4430A two-way, active installation loudspeakers throughout the museum - the first model to incorporate Genelec's ground-breaking Smart IP technology. The Smart IP platform enables IP networking via both Dante and AES67, and derives power via both PoE and PoE+ Power-over-Ethernet formats. As well as receiving both power and audio-over-IP, the 4430's rear panel CAT connector also allows access to Genelec's Smart IP Manager – a sophisticated downloadable software tool running on Windows 10 that allows installers to configure an almost unlimited number of rooms, zones, speakers and audio channels, and includes device discovery, versatile room equalisation, system organisation and status monitoring. External control via third-party hardware, software or house automation is also possible.
"We were responsible for designing a digital experience system with the possibility to change exhibitions efficiently when required," says Bright's Head of Installation, Santtu Sipilä, who worked closely with Genelec throughout the design and installation process. "As this was the Finnish Music Hall of Fame, some extra attention was needed regarding the sound quality. We investigated several other music museums to ensure that our solution would deliver the best sound quality of them all.
The decision to use Genelec was clearly a determining factor in achieving that goal, and the possibility of using the new networked loudspeakers made it even easier. The Smart IP technology enables us to drive each loudspeaker independently, and that opens up a wealth of opportunities for immersive sound experiences."
In order to ensure the best possible audio experience, particular attention was paid to the acoustics of the museum during the design stage: "Even the best loudspeakers are no good if the acoustics don't work!" says Santtu with a smile. "We also had to pay careful attention to the network to be able to run perfectly synchronised sound and video at the same time. Again, the Smart IP platform played an important part in making this work successfully."
The Board members are thrilled with the results, and customer feedback confirms the success of the project. "The Finnish Music Hall of Fame is full of technology - virtual reality and digital technology are used to convey music, video, audio, sound effects and live music. I strongly believe that the sound world and acoustics form the most important and memorable experience at the Music Museum from the customer's point of view," says Olli Ilmolahti. "Genelec´s new Smart IP technology was a perfect choice for us, offering a complete solution with the highest quality and flexibility which means savings in working time, maintenance and investment costs. We achieved everything we wanted and more, and the immersive sound world and listening environment in certain areas of the Fame Music Museum - as well as the neutral, transparent sound throughout - is something to be experienced. Customer feedback has been nothing but positive."
Mikko Vanni, chairman of the board for the museum, agrees wholeheartedly. "We wanted to use the most advanced technology available, and all the technological solutions devised by Genelec and Bright have been successful. We have been able to leverage this by informing the media and our main target groups that we have a very advanced Genelec solution (including an immersive voice system) combined with other sophisticated technology, which has given added value to the content credibility of the museum. We think that the Genelec system is amazing - the vocal reproduction throughout the venue is truly special. We set out to achieve a level above what is already out there, and we've done it. We're delighted with the results."
Genelec delivers premium audio to renowned Nordic consultancy HQ
The company has recently transformed an old red brick factory building into their new Miltton House headquarters in Helsinki. High quality audio visual technology naturally plays a key role in the new venue. Systems integration specialists, Digisähkö Oy, who were charged with designing and installing the AV systems, selected Genelec loudspeakers throughout, for a premium audio experience.
Designed as a physical meeting place and an inspiration hub as well as a workplace for Miltton's talent and its stakeholders, high quality AV systems were a priority from the start. "The investment in Miltton House represents the next phase in Miltton's growth story," explains Camilla Linniemi, Partner & Director at Miltton Group. "The ways of working are under constant change and the best ideas happen when people connect in a meaningful way." To that end, in the early stages of the project, Miltton engaged top acoustic consultants and AV designers, Akukon Oy, to come up with an initial design, which was then developed and refined by Digisähkö as the project progressed.
They are extremely aesthetic, so they blend well into every environment, and so very easy to install.
"Akukon had specified that the speakers should be 'separate, high quality active loudspeakers,' so as far as we were concerned, Genelec was the obvious choice," relates Digisähkö CEO, Jani Hirvonen. "The brand is synonymous with quality and matched all of Miltton's criteria concerning sustainability. It was a very easy decision."
Digisähkö installed a total of 50 loudspeakers from Genelec's 4000 Series installation range throughout the building. 42 compact 4020 speakers equip Miltton's wide variety of meeting and conference rooms. Two of the more powerful 4030s grace the company's airy entrance lobby whilst a pair of the heavy-hitting 4040s are reserved for the demo room. "The 4000 Series loudspeakers make life very easy for us as an integrator," confirms Hirvonen. "They are extremely aesthetic, so they blend well into every environment; they are active loudspeakers, and so very easy to install; there is a good range of mounting accessories; and of course, they sound fantastic with incredible clarity and detail, even at low levels."
We asked for a design that would combine flawless audio quality with sufficient power and coverage.
However, there was one area where Miltton had very specific – and high-level – requirements, and that was for their 350m2 event space in the heart of the building, known as Tori. Designed for events of up to 500 people, the space is easily adaptable for the style of the occasion – from cocktail parties to seminars – with seating for up to 300 people. The audio system needed to be similarly versatile with the ability to cater for everything from a DJ or live band to seminar material.
"The requirement was clearly for a high output, high fidelity sound system with connections for a DJ mixer, which is a very different animal from a conference room system," notes Hirvonen. "We asked Henri Ulmanen at Genelec to come up with a design that would combine flawless audio quality with sufficient power and coverage to fill the space with no hot spots or dead zones."
Ulmanen decided on a main system of two S360 smart active loudspeakers supported by two powerful 7380 subwoofers for low end reinforcement, supplemented by four 4040 loudspeakers (two per side) as delays/sidefills. "I decided on the S360s because of their excellent, neutral reproduction and a long-throw capability that delivers reference-quality accuracy at listening distances of over 10 metres," explains Ulmanen. "Combined with the 7380 subs they are an excellent solution for any environment looking for premium quality, high SPL vocal and music reproduction in a compact form factor.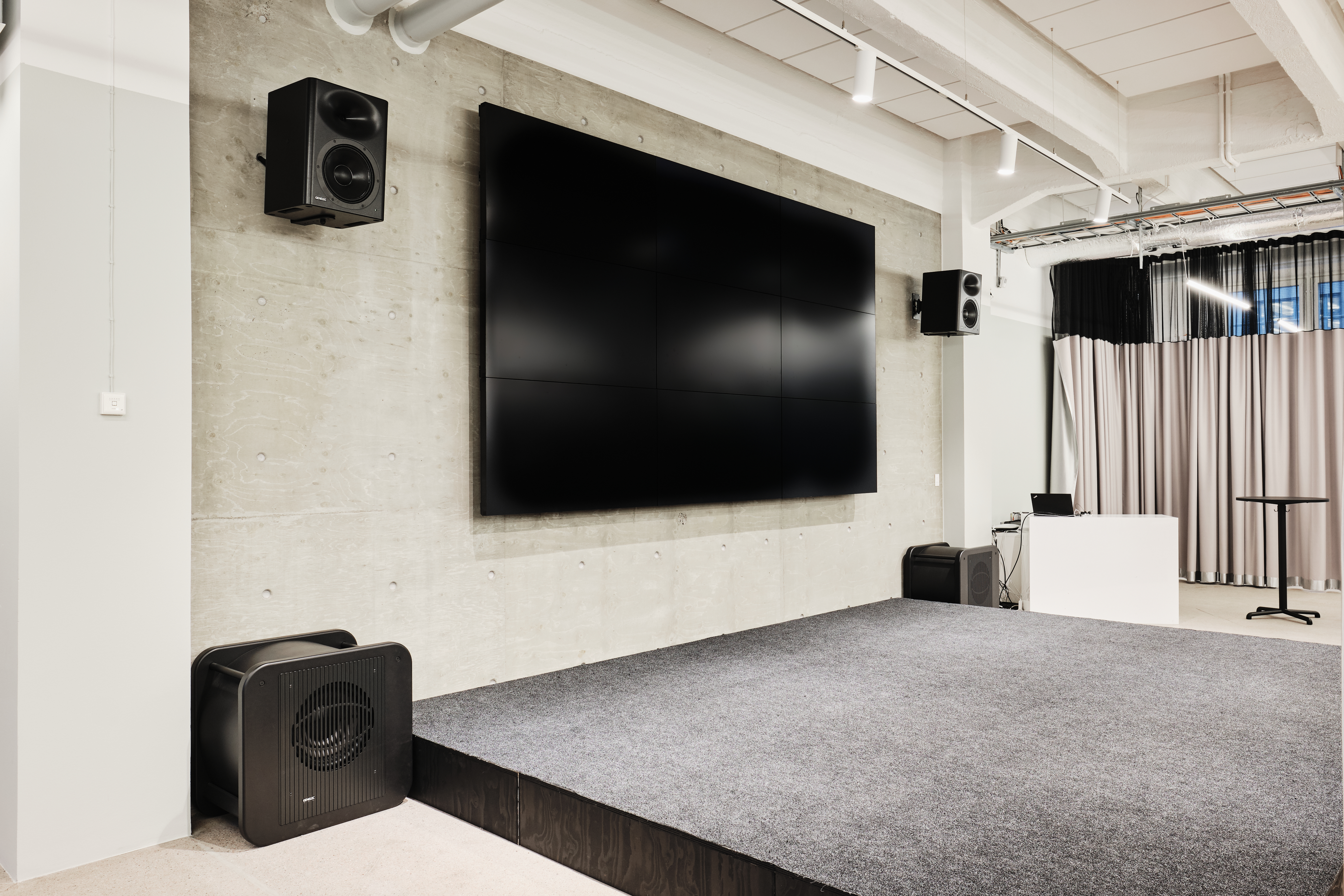 "Another important element was the fact that, as a smart active loudspeaker, we can use our GLM software to configure and optimise the S360s to compensate for any detrimental room influences," he continues. "The Tori event space has a pretty industrial feel with concrete floors and lots of floor-to-ceiling windows, so this was very helpful in ironing out anomalies, especially when the room is being used at full capacity."
All of the AV systems and the Helvar Dali lighting throughout the building are controlled by the Control4 automation system, via individual touch screens in each of the meeting rooms and the Tori event space for easy operation. Digisähkö implemented the integration between the systems as well as the installation of all of the AV technology.
"We're very proud of this installation and Miltton are thrilled with the results," said Hirvonen. "They wanted a modern, high quality, sustainable AV solution that is versatile, easy to operate, and reflects their values as a company. Genelec ticked all the boxes and integrates perfectly into the total solution. It's a great success all round."
Genelec S360A High SPL Monitor im Test (DE)
Genelec S360A High SPL Monitor im Test (DE)
Got Questions?
Search our support portal for articles on frequently asked questions:
You can also submit an enquiry to our customer support team here.